In my lifetime, the world has experienced an explosion of technological change and a corresponding acceleration of economic, industrial, environmental and cultural change. Our perspectives have radically shortened and our pace has become frenetic relative to times past. As a civilization we have become, it seems, shallow and distracted, and less able to practice critical thinking skills in an increasingly complex world. This is the backdrop to the Long Now movement, an effort to promote long term thinking, and to strive to be good ancestors.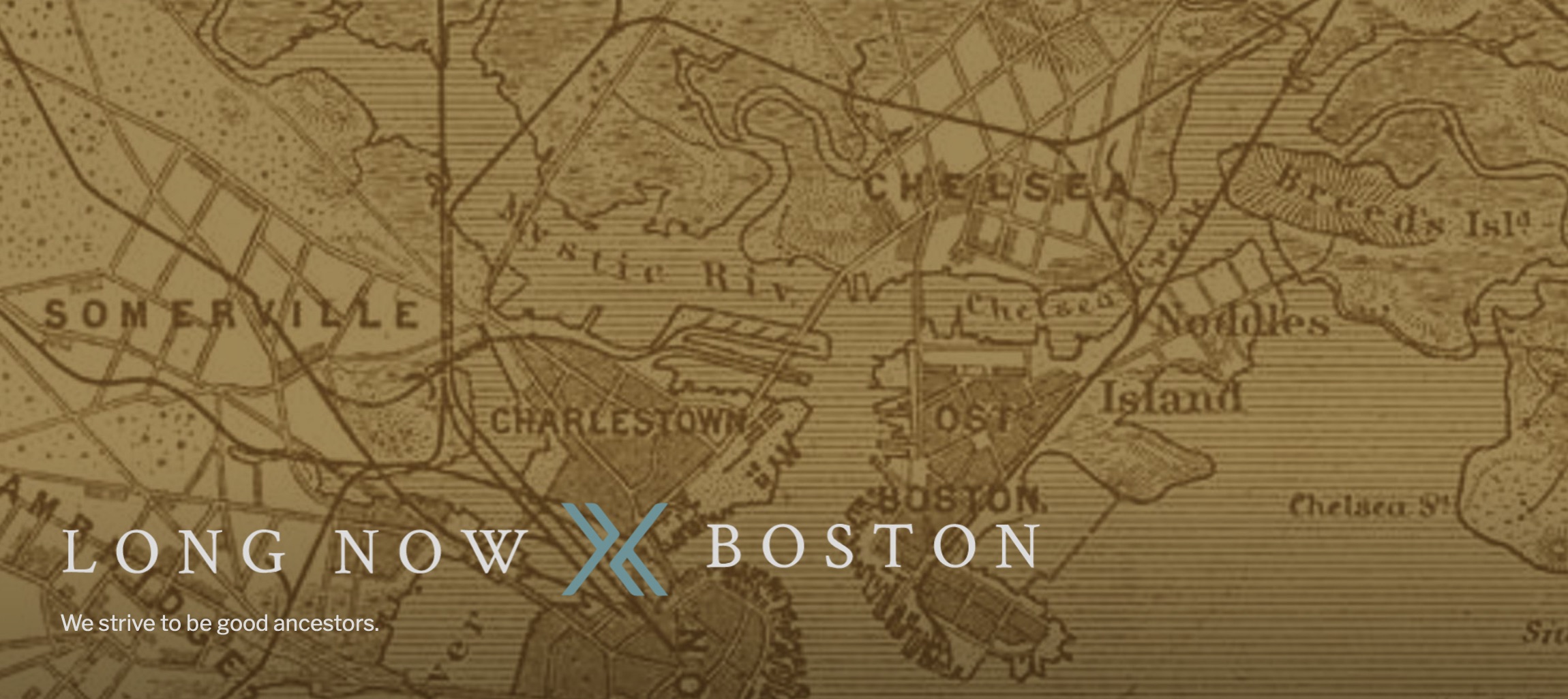 Long Now Boston
In 02016, a few Boston area members of the Long Now Foundation (headquartered in San Francisco), decided to encourage some local conversations, with the goal of fostering very long term thinking, Boston-style. Those conversations became the starting point for the Long Now Boston Meetup Group and some speaker presentations. That program began to take off, as did the aspirations of the organizers. I got involved a year ago and began writing event summaries (hosted on Spiral Inquiry) and helping with topic and speaker curation. A year later, Long Now Boston is an independent 501(c)3 with more than 560 followers. We host a monthly Conversation series with excellent speakers at the Cambridge Innovation Center and recently launched an updated website at www.longnowboston.org. You are more than welcome to sign up!
Spiral Inquiry has hosted the Event Summaries for the past year, but in 02019, those summaries will be posted on Long Now Boston. The first event of the year, Reimagining the Microbial World, featuring Drs. Scott Chimileski and Roberto Kolter, was held on Monday February 4. The next event, Decoding, Leveraging and Protecting Our DNA in The Age of Personal Genomics will be on March 4 and will feature Preston Estep CSO and co-founder, Veritas Genetics and Dennis Grishin CSO and co-founder, Nebula Genomics
I'm delighted to be part of the Long Now movement. Given that my wife and I now have 8 grandchildren (including six that are 3yrs and under), it is appropriate to be concerned about the kind of ancestor I will be, and the kind of society my grandchildren's grandchildren may be living in.
——————
About Long Now Boston:
Long Now Boston is a 501(c)(3) non-profit organization (formed in 02018) that is independent from, but philosophically aligned with, the Long Now Foundation. Long Now Boston provides a forum for discussing, investigating and engaging in issues that have long-term implications for our global cultures.
The Long Now Boston Monthly Conversation Series:
The Conversation Series provides an opportunity for our members to engage with thought leaders on issues of long-term significant in science, culture, technology and society. Meetings are held at 7PM on the first Monday of each month at the Cambridge Innovation Center, 1 Broadway, Kendall Square. The events are open to the public for a nominal fee (students are free), with space for up to 120. The evening usually begins with a 5-minute welcome and introduction, a 45-minute presentation by one or more invited speakers, and a 40-minute Q&A.
(Visited 14 times, 1 visits today)